Here are the top

10 Questions

you should ask your

Photographer

,
along with the right answers!
Read
View reviews:
in
Congratulations on your Engagement!
There is a lot of advice that can be offered during your engagement, from wonderful places like Wedding Wire, The Knot or even Facebook.
But not all of the questions are the right questions that you should be
asking your Wedding Photographer.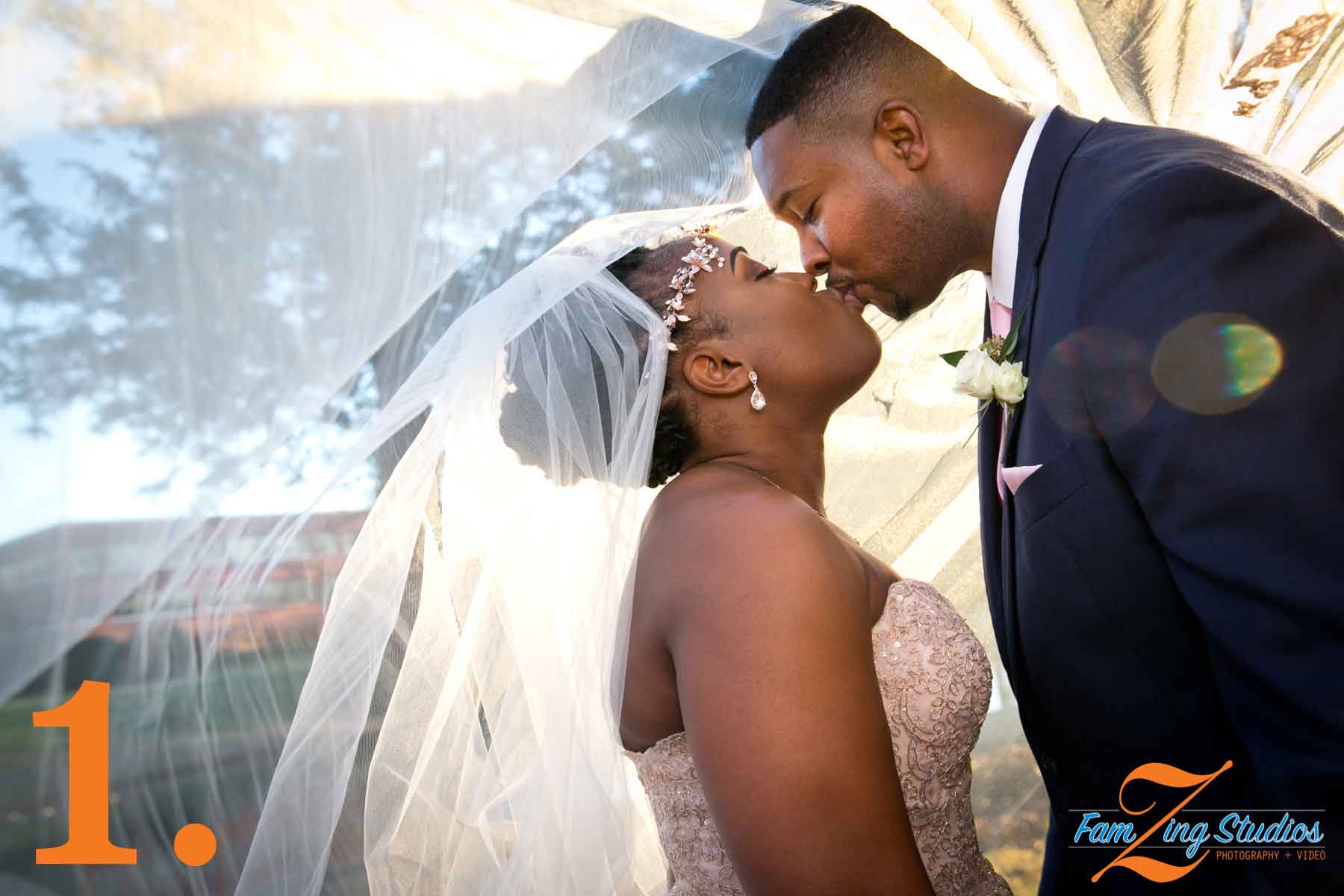 Question 1:

How long have you been photographing weddings and how many have you photographed?
Answer:

You will want to find someone who has been photographing weddings for at least 3-5 years. Also make sure they specialize in weddings. Many photographers will focus on portraits, kids, seniors and then shoot one or two weddings a year on the side. They may be a good photographer, but may not be a great wedding photographer.
You will also want to find a photographer that has photographed at least 20-40 weddings.
This way they know the in's and out's of the wedding day.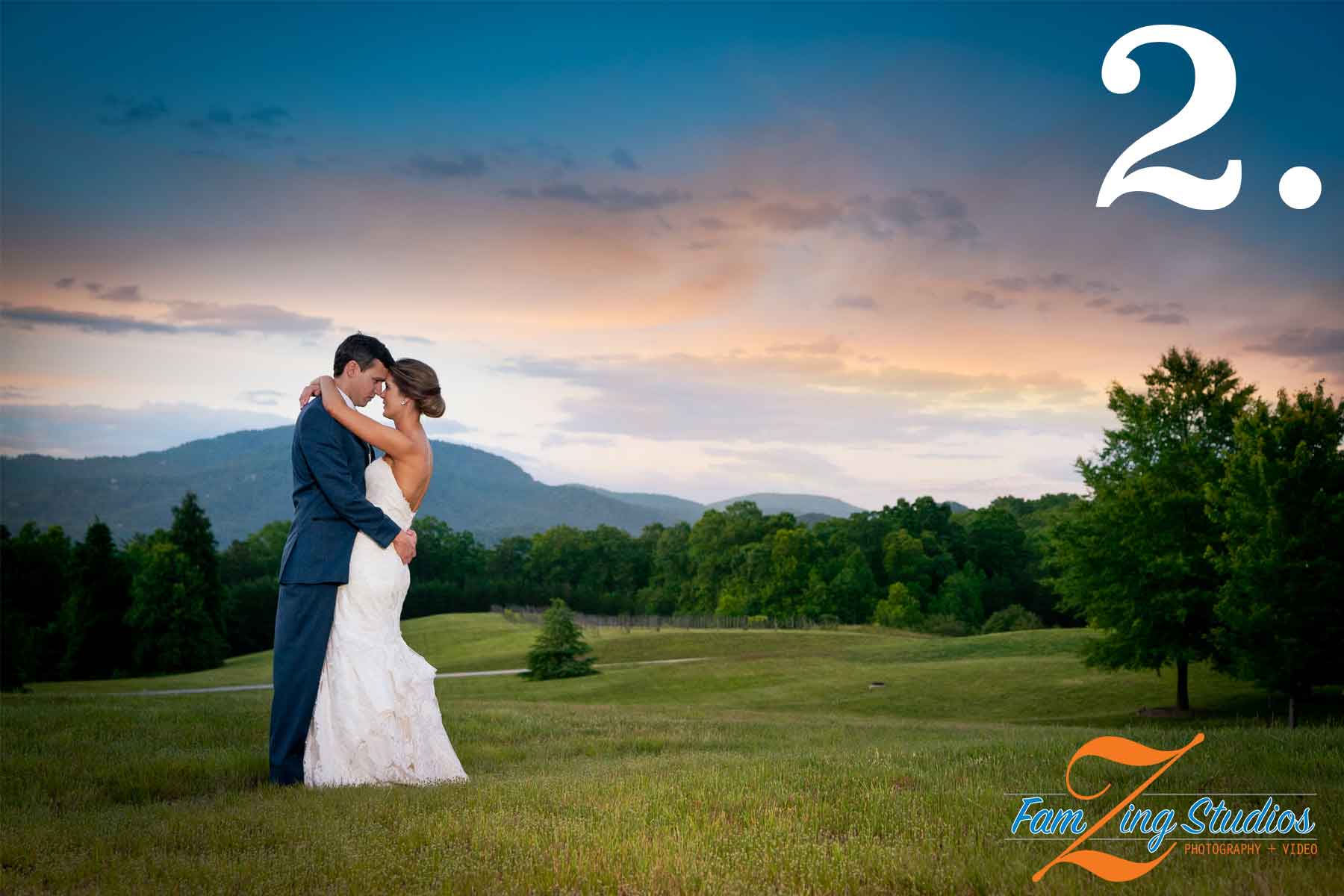 Question 2:

Do I get all of my images and do you edit them?
Answer:

Some studios will give you all the images (we do!), while others will only give you a limited kind of image. Make sure you get high resolution (aka Print Ready) images with no water marks.
Editing is also another area you should ask about. Are all of the images edited or only a few? Unless you are a photographer or an editor, you are not going to know how to edit the images. Make sure you are getting all of the images edited that are being delivered to you.
You will also want to understand if you are allowed to print your own images or if the photographer reserves those rights. (We provide you with a thumb drive so you can print to your hearts desire)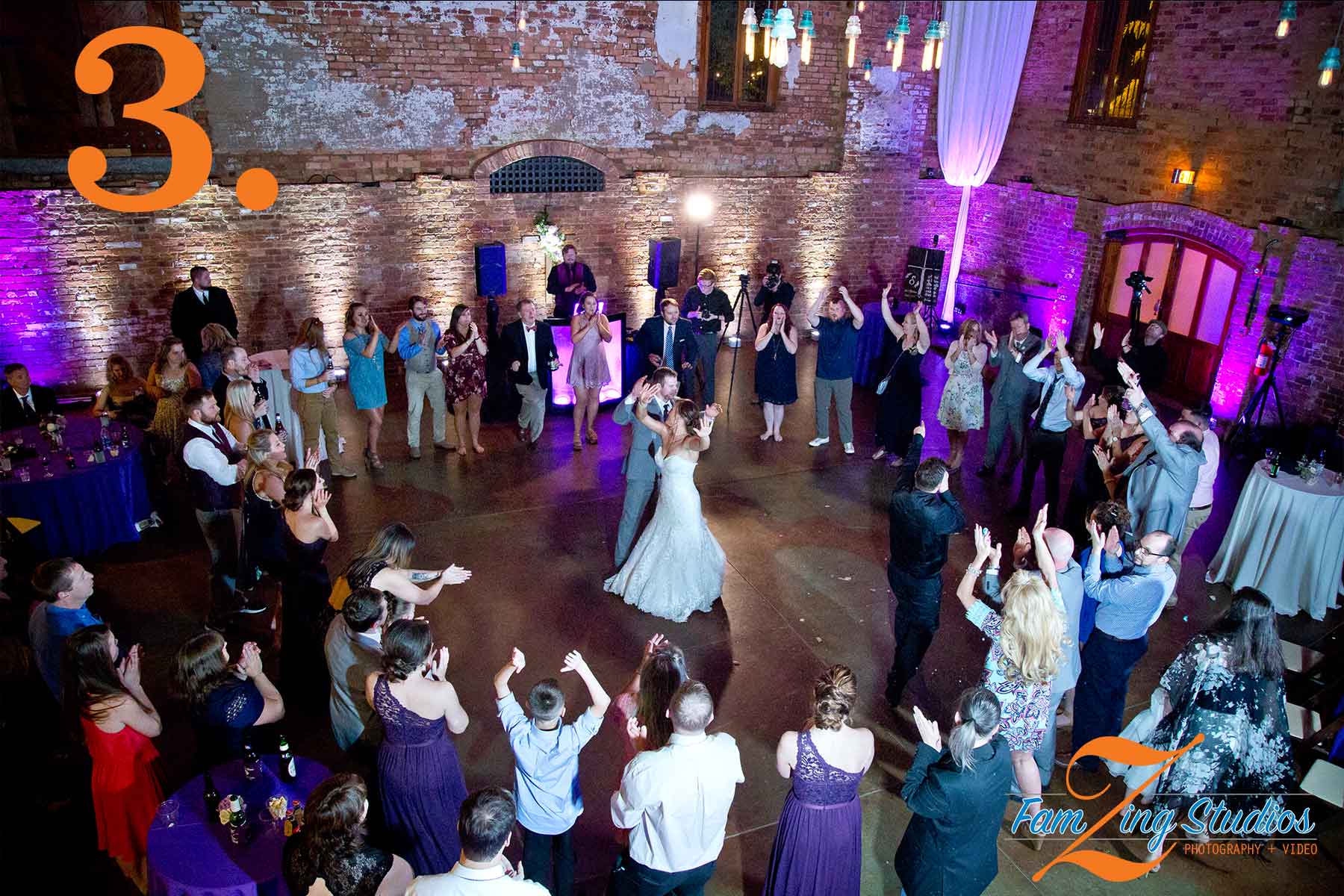 Question 3:

Can you show me images in low-light?
Answer:

This is where you will start to see a difference between a pro and a beginner. A good Wedding Photographer should be able to show you images from a dark reception that are well exposed, clear and sharp. If all they can show you is Black and White images or the images look soft (blurry), you will want to look elsewhere. Although they may not be able to show you the whole reception (due to privacy) they should be able to show you dozens of low light reception photos.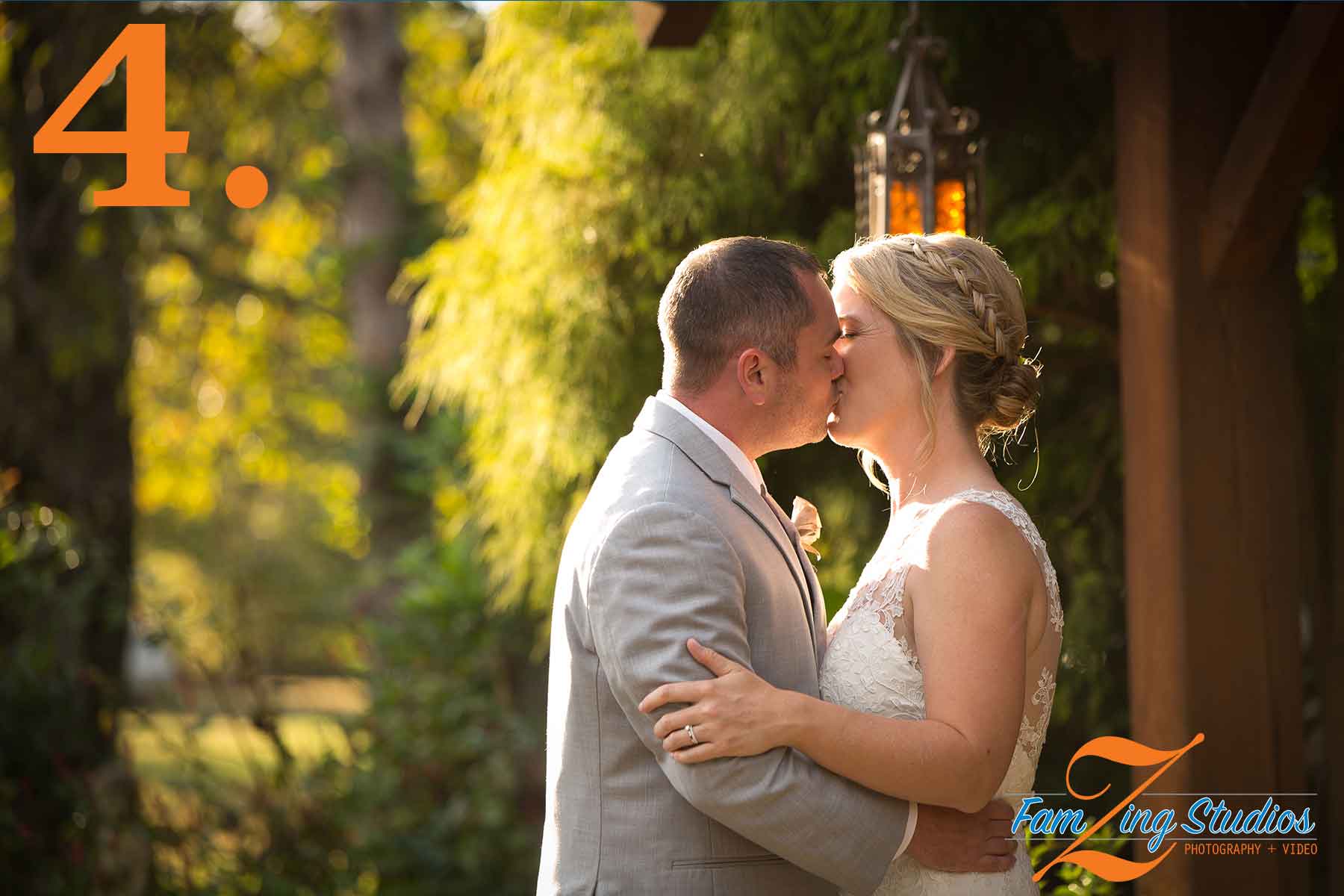 Question 4:

Are my images safe?
Answer:

We have talked to 100's of brides over the years, and many are presently surprised by how much care we take with their Wedding Photography. What happens to the wedding photos after your wedding day is just as important as the process of taking the pictures.
With FamZing Studios, the night of your wedding, our photographers take the cards to our studio where our in-house editor is waiting for them.
Once the images are copied to our main server, a cloud back up happens and then the cards are locked in a fire-proof safe until after the images are delivered to our couples.
They are then archived for life. If anything happens to our couples images, we are able to send them a new thumb drive as a replacement.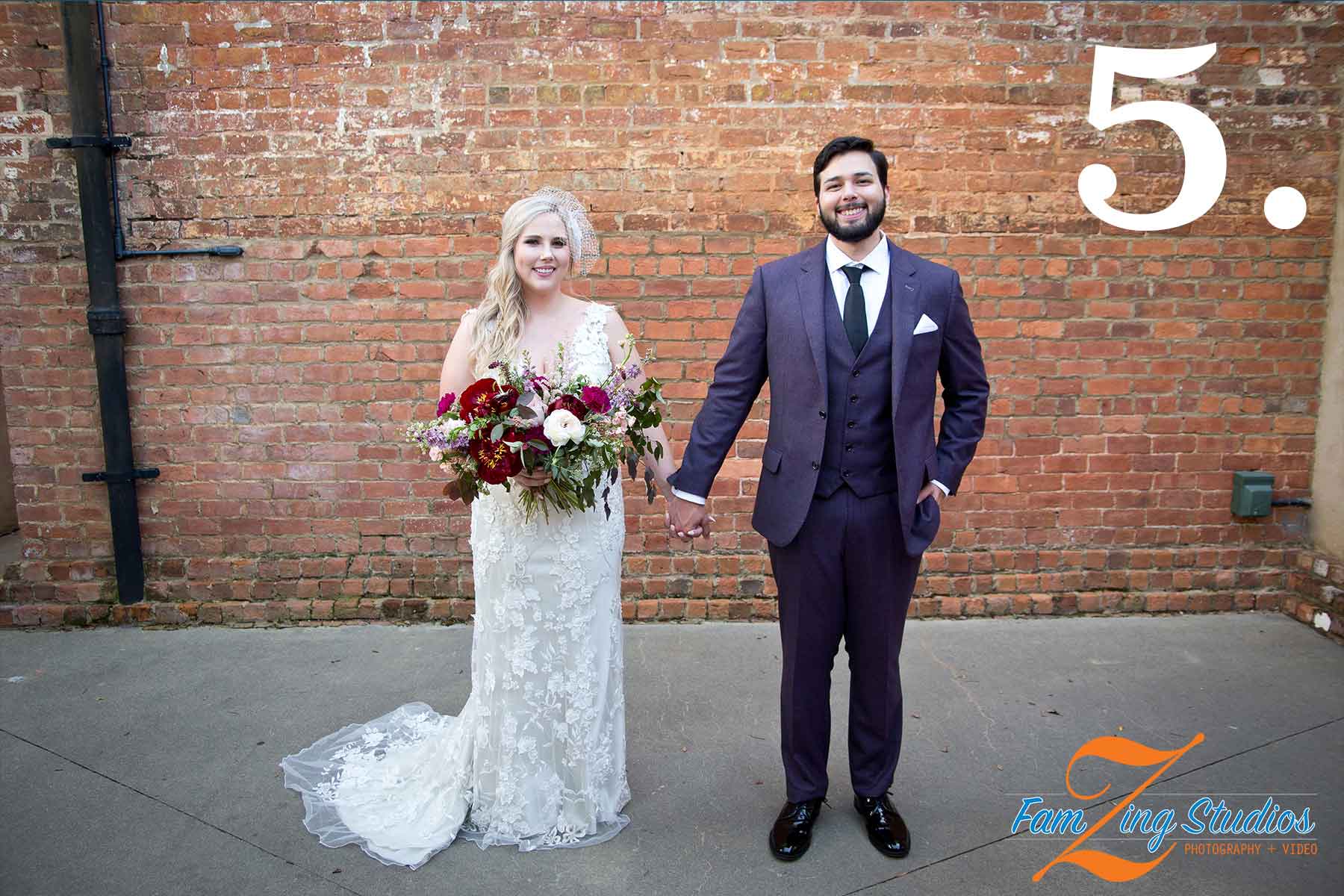 Question 5:

Will you give us direction (posing, etc)?
Answer:

A Wedding Photographer should always give direction. The term "pose" tends to scare people as if their photos will be stiff or awkward. Every body type is different, and someone who has studied photographing the human body should allow them to photograph you in the most flattering way.
A great Wedding Photographer will not only do that for you, but they will also be able to do it in a relaxed and fun environment, so the fun "organic" or "photo journalistic" photos will happen naturally.
Throughout the day, a true Wedding Photographer will know when you need them, and when you want them to be hands off.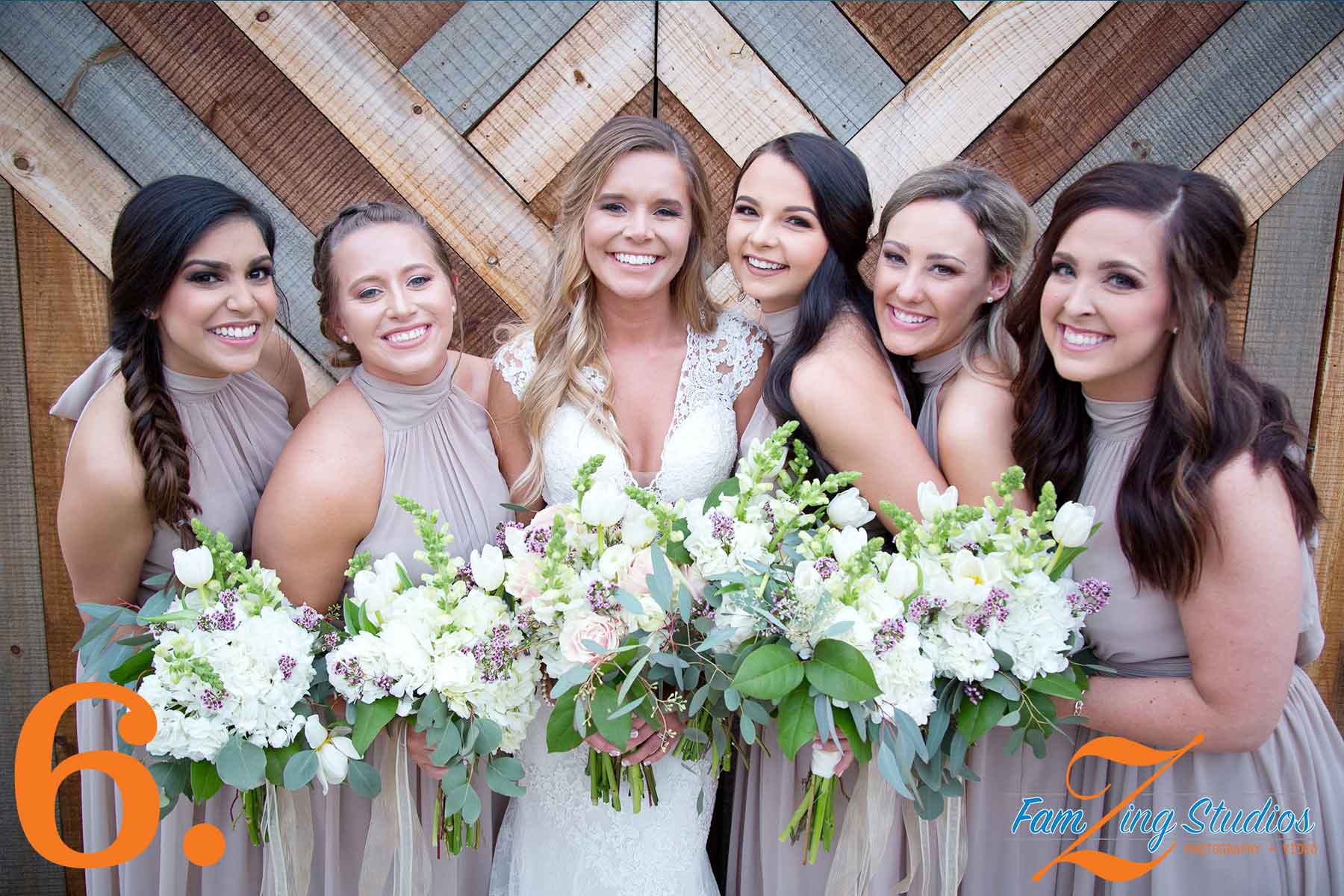 Question 6:

Have you photographed a wedding at my Venue before?
Answer:

With so many options for Wedding Venue's it's hard for any photographer to photograph at ALL of them. (unless you are a studio like us with so many awesome photographers)
If your photographer has not photographed at the venue, don't be to scared, but ask them to show you work at a similar type of venue. (Rustic, Barn, Hotel, etc)
Having a photographer that has been at your venue gives you a great advantage. They know the staff, they know the layout and they will know the best places for photos so you don't have to worry!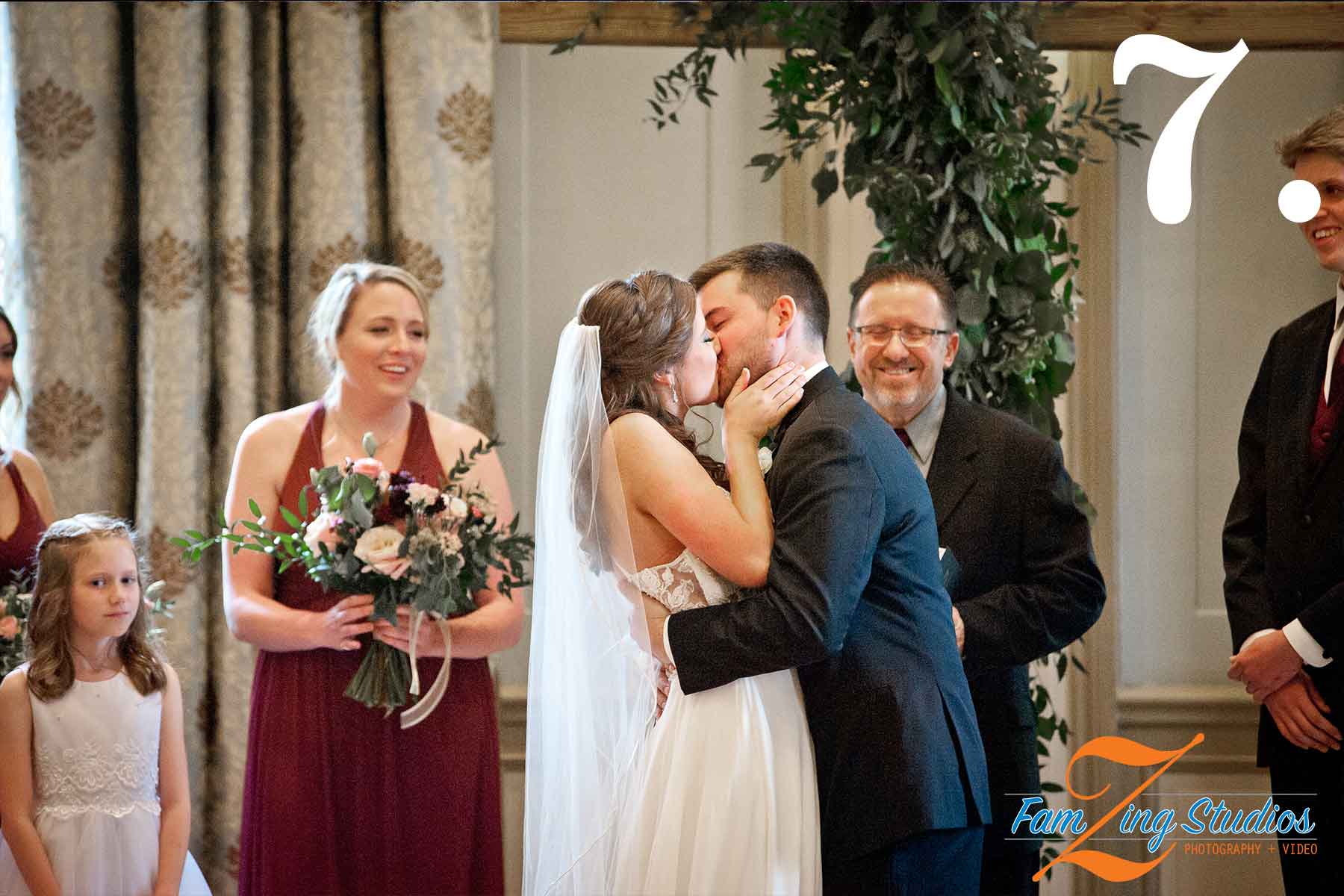 Question 7:

Where will you be during the ceremony as well as other important Events?
Answer:

The answer will determine whether you should consider booking or moving on from a Photographer. Where a Photographer will be during important events is a testament to the type of equipment they have (professional vs non-professional).
The image shown here "looks" like it was taken from a few feet away. In reality this image was captured from the back of the venue (with a very expensive lens).
If a photographer is up front during the ceremony it becomes a distraction and the focus is on them and not YOU! If your photographer is not able to capture everything from a distance (including first dances) that means they may not have invested in the correct type of equipment.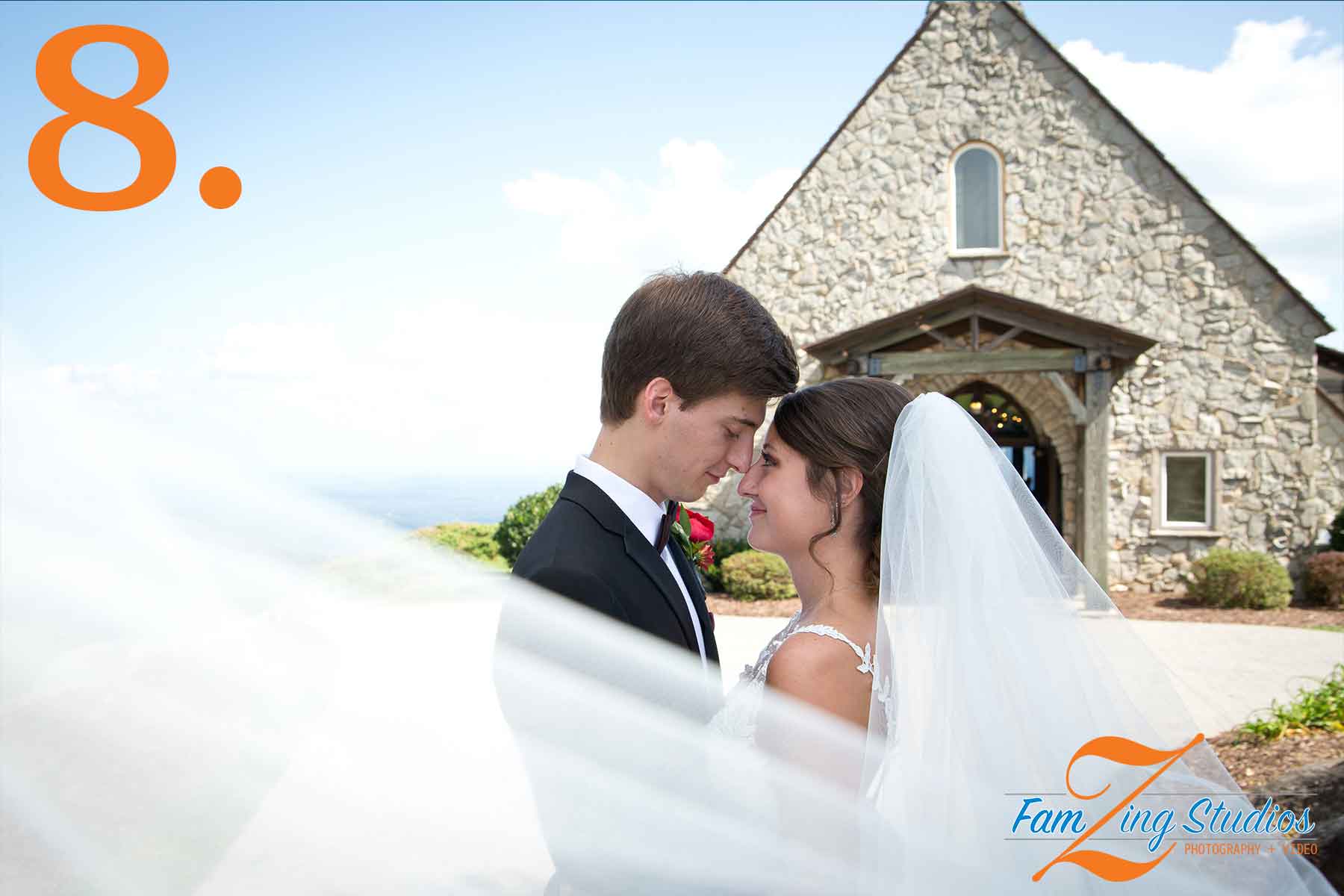 Question 8:

How many Photographers will be there on my wedding day?
Answer:

This is a super important question to ask. Many photographers will include 2 Photographers, but it is important to understand the "other or second" photographer and their skill set. Many Second photographers use this as a way to learn and improve their wedding skills while the lead Photographer runs the day. It is important for the photographer to be up front about this as you may find they have a revolving door of second photographers.
With Our Studio, each of our photographers is a seasoned and certified Wedding Photographer. This means each of them is well versed in all things wedding and they are truly able to be in 2 places at the same.
And two photographers is ALWAYS better than one. 🙂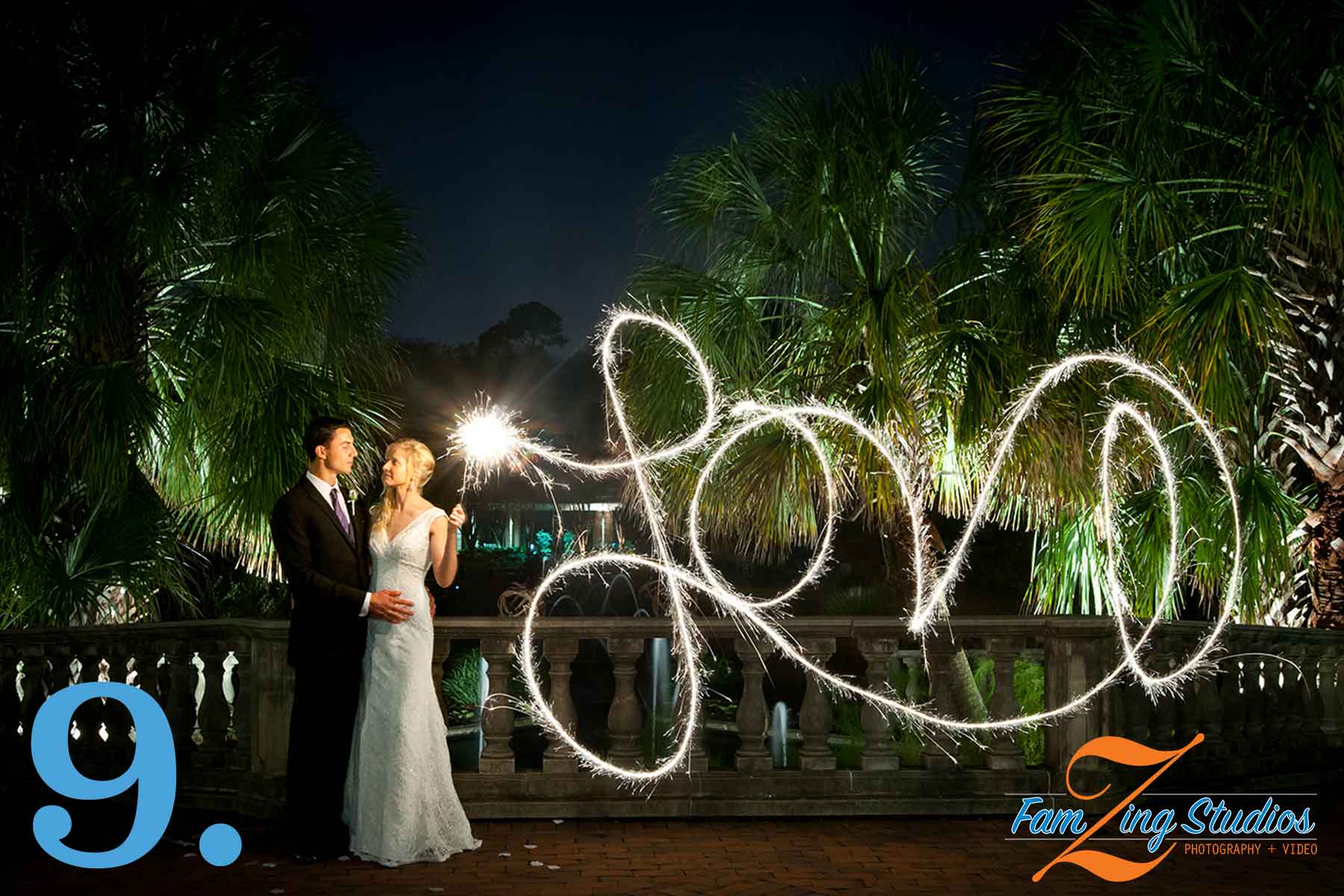 Question 9:

How long will it take to get ALL my edited photos back to me?
Answer:

Different photographers have different skill sets when it comes to the editing process. We photograph A LOT of images during the day, but now we have to sort them, get rid of the duplicates and provide you with the best images, all edited.
Because we use our own in house editors, it saves lots of time and gets you your Wedding Photos back to you quick.
How Quick?
You should expect to see your Wedding Images within 7 business days. Most of our couples see thier wedding images on their honeymoon!
Industry standard turn time for editing is usually 14-21 days.
If the photographer takes any longer than that, then it should raise a red flag on the skill level they have with editing.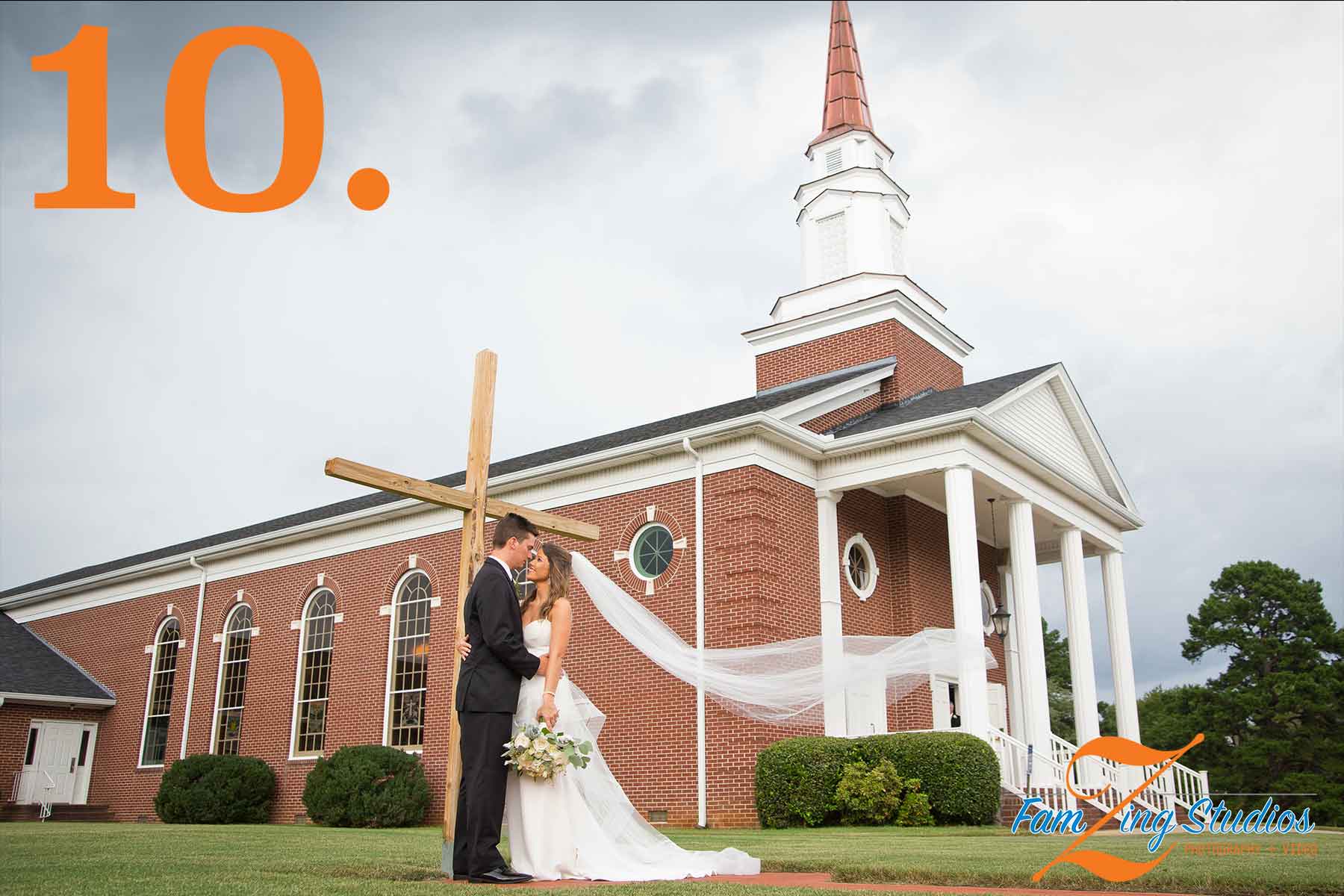 Question 10:

What is your back up plan?
Answer:

Every Photographer should have a back-up plan. Saying "Don't worry, I have never missed a Wedding" may not be good enough for you. Luck favors the prepared and knowing that you will have a qualified person on your Wedding day should be very important to you.
FamZing Studios always has 2 Photographers who are not scheduled for the day "on call".
This means that if something tragic were to happen to your scheduled photographers, you would have equally skilled photographers ready to hop in at a moments notice. (which is a pretty nice insurance policy)
---
Thanks for taking the time to read the Top 10 Questions you should ask your Photographer!
If you have more questions to ask,
---
Let's grab some coffee and chat about your day?
we would

to meet you…